MEP BIM Modeling and Coordination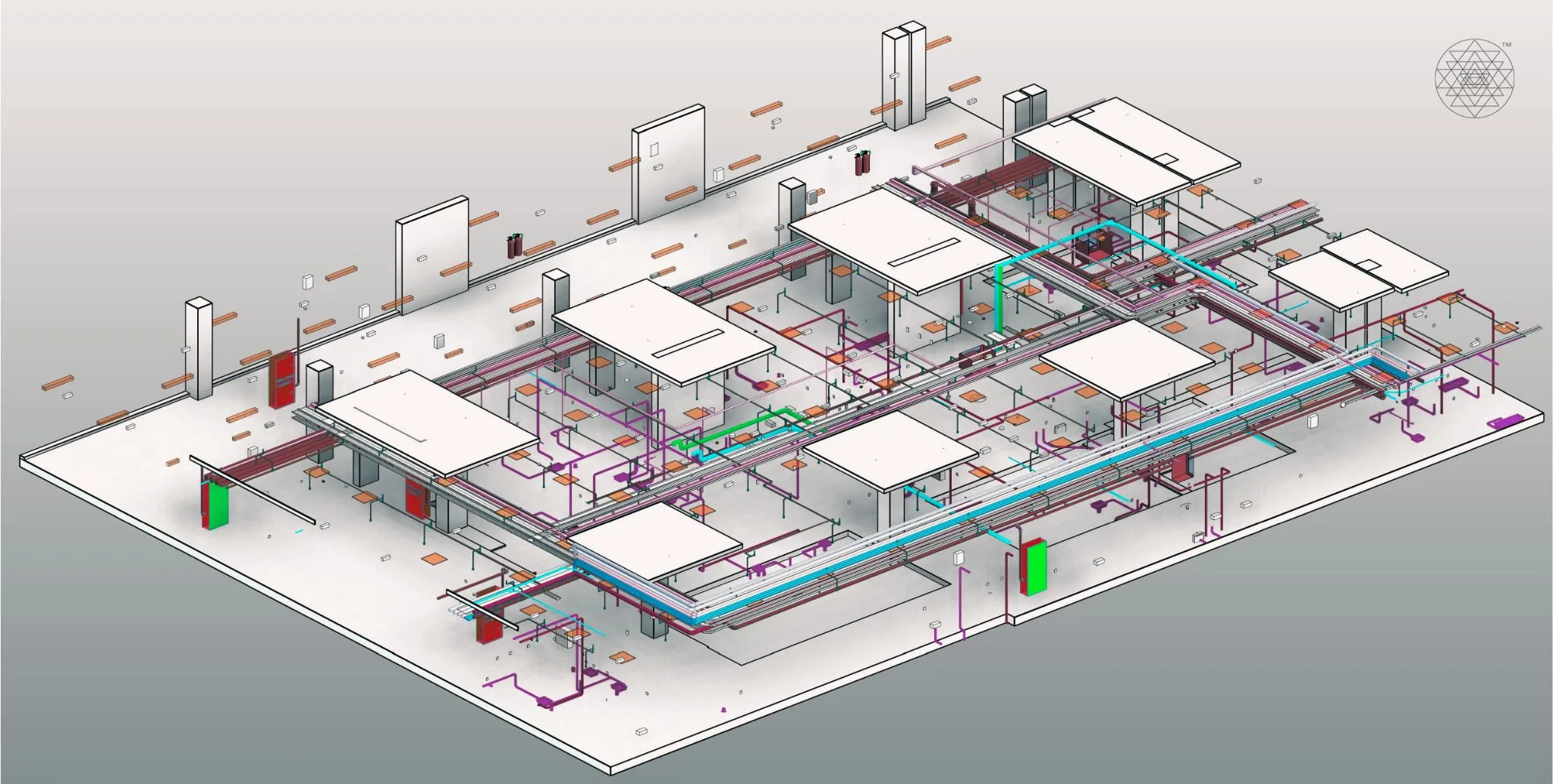 Our team specializes in delivering high-quality solutions that integrate the latest advancements in Building Information Modeling (BIM) technology, specifically tailored for the mechanical, electrical, and plumbing (MEP) disciplines.
MEP BIM Modeling
Our MEP BIM modeling services encompass the creation of accurate and detailed digital representations of MEP systems within a building project. By utilizing industry-leading software tools and methodologies, we ensure that every aspect of the MEP components is meticulously modeled, including HVAC (Heating, Ventilation, and Air Conditioning), electrical systems, plumbing fixtures, fire protection systems, and more. Our experienced team of MEP professionals collaborates closely with architects, engineers, and contractors to develop precise 3D models that accurately reflect the design intent and facilitate effective coordination.
MEP BIM Coordination
Efficient coordination among the various MEP trades is crucial for the successful implementation of a construction project. Our MEP BIM coordination services focus on resolving clashes and conflicts that may arise during the design and construction phases. By utilizing advanced clash detection tools and clash resolution workflows, we identify and rectify clashes between MEP systems, structural elements, and architectural features. This proactive approach minimizes on-site conflicts, reduces rework, and enhances project efficiency, ultimately leading to cost and time savings.
Our Commitment to Excellence
At VARMINE CONTECH PVT LTD, we are committed to delivering MEP BIM modeling and coordination services of the highest quality. Our team of skilled professionals combines extensive domain knowledge with cutting-edge technology to meet the unique requirements of each project. By leveraging the power of MEP BIM modeling and coordination, we strive to optimize construction processes, mitigate risks, and deliver successful projects that exceed client expectations.
Contact us today to learn more about how our MEP BIM modeling and coordination services can add value to your construction project.
Advantages of MEP BIM Modeling and Coordination
Implementing MEP BIM modeling and coordination offers numerous advantages throughout the lifecycle of a construction project. By leveraging this integrated approach, stakeholders can benefit from:
Enhanced Collaboration: MEP BIM modeling promotes seamless collaboration among project teams, allowing architects, engineers, and contractors to work together efficiently, thereby minimizing errors and rework.
Clash Detection and Resolution: MEP BIM coordination enables the early identification of clashes and conflicts between MEP systems and other building components, preventing costly delays and modifications during construction.
Improved Design Visualization: With detailed 3D MEP models, stakeholders can visualize and understand complex systems, making informed decisions and optimizing space utilization.
Enhanced Construction Planning: Accurate MEP BIM models facilitate better construction planning, leading to improved sequencing, coordination, and installation of MEP systems.
Increased Efficiency: MEP BIM modeling and coordination streamline construction workflows, improve productivity, and reduce construction waste, resulting in overall project efficiency.
Let' Talk With Us For Your First Project